PROBLEMS / POSSIBILITIES
SYSTEMIC FAILURES / HUNGER / POVERTY / HOPELESSNESS / DESTRUCTION
GOOD PEOPLE / AMAZING TECHNOLOGY / HUGE POSSIBILITIES
PROBLEMS
MANY ISSUES & EXISTENTIAL RISKS
INEQUALITY
Top 1%
The Bottom of the Pyramid

Obscene Wealth

Terrible Poverty

Urban slums

Malnutrition

Starvation

Genocide
Corporate decision makers have eliminated many well paid middle class jobs
Many jobs were outsourced to places where wages were lower, working conditions dangerous and environmental impact uncontrolled. These places had positive economic growth at the expense of the workers who had lost their jobs! Corporate executives and stockholders also benefitted at the expense of those who had lost their jobs.
FINANCIALIZATION

Stock market

Intangible value

Money supply

World GDP growth

US GDP growth

GDP v GPI
A digital virtual world has taken over from the real world
Binary logic is so much easier than reality. Computers have little ability to do complex thinking, and substitute massive speed for thoughfulness. There is a lot more data, but not much more understanding.
This has been aided and abetted by business schools that equate financial wealth with success. Money wealth has grown rapidly, but not so much happiness, and natural capital has been degraded and destroyed.
CLIMATE CRISIS
Cyclone
Wind
Eye of storm
Hurricane
Floods
Floods
Leaders have failed to address the crisis of climate change for many years
Leaders in business, banking, politics and academia, as well as consumers, have done little or nothing to change 'business as usual' even though the scientific concensus since the 1980s has been that climate change was being aggravated by modern industrial activities. There is now a climate crisis.
EVIL LEADERSHIP / NO MORAL COMPASS
Yemen Ali Abdullah Saleh,
Liberia Charles Taylor,
Syria Bashar al-Assad
Libya Muammar Gaddafi
Zimbabwe Robert Mugabe
Uganda Idi Amin
Some very nasty national leaders
National leadership matters. There was a lot of criticism of the role of colonialism much of which was justified, but leadership in many nations around the world is deeply flawed with those in power enriching themselves at the expense of the people. International assistance has been minimally effective.
INEQUALITY
A problem that has been growing for about 4 decades ... and ignored for all this time. Rich 'successful' people are responsible for this and will not do anything about it.
Obscene Wealth
Terrible Poverty
Juxtaposed
More ...
Open L0700-XR-Inequality
UNHAPPINESS
While many economic indicators have improved, many social indicators have deteriorated. Many people in rich countries are economically stressed and this is reflected in their behavior and state of health. For many things are getting worse not better.
Unhappiness
Suicide
Stress
More ...
Open L0700-XR-Inequality
STARVATION / MALNUTRITION
Mostly caused by war and violence, but increasingly also being caused by dysfunctional governing institutions and climate change.
Africa
North Korea
Somalia
More ...
Open L0700-XR-Food-Insecurity
WAR / DESTRUCTION
The value destruction associated with war is ignored in metrics like GDP ... though the production of the bombs that do the damage are included.
Aleppo, Syria
Sanaa, Yemen
Mosul, Iraq
More ...
Open L0700-XR-War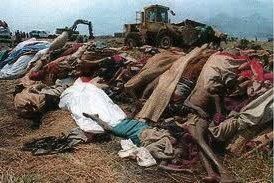 DEATH ... WANTON KILLING
The horror of killing ... genocide ... is tough to witness. But too many world leaders have been responsible for this behavior in both the distant and recent past.
Monrovia, Liberia
Darfur, Sudan
Rwanda
More ...
Open L0700-XR-Wanton-Killing
URBAN DEGRADATION
The modern 'for profit' market driven economy does not result in quality affordable housing, but rather extreme opulance or derelict properties and slums.
Detroit, USA
Modern slums
Kibera, Kenya
More ...
Open L0700-XR-Urban-Degradation
POLLUTION
Products are important to improve standard of living and quality of life, but most products post use then become waste that in many cases pollutes the planets for a very long time.
Air pollution
Land fill
Plastic
More ...
Open L0700-XR-Industrial-Pollution
LAND DEGRADATION
Undeveloped natural land is very important for the operation of the global ecosystem, but more and more of natueral land is being developed either for agriculture or for industrial or urban development.
Mining
Deforestation
Desertification
More ...
Open L0700-XR-Degraded-Land
EXTREME WEATHER
Extreme weather events are getting more frequent and more ferocious. This is not suprising given the huge increase in the latent energy of the climate system that results from just a small increase in global temperatuve.
Hurricanes
Rain / Flooding
Tropical depressions
More ...
Open L0700-XR-Climate-Change
| | | | | |
| --- | --- | --- | --- | --- |
| No water | everything | dies | More ... | Open L0700-XR-Drought-Water-Shortages |
| | | | | |
| --- | --- | --- | --- | --- |
| Investment bulls | Stock Markets | Money | More ... | |
POSSIBILITIES
MANY GREAT IDEAS AND INITIATIVES
<
MOST PEOPLE ARE GOOD PEOPLE

There are good nice people everywhere on the planet. They need to have ways to better themselves and to better the world. A relatively few bad actors make a better world very difficult to achieve.


Arab Women
Arab Men
Indian family
Nigerian Kids
Vietnam worker
US Worker
... and some exceptional leaders
Paul Polman
Norm Chomsky
Nelson Mandella
Mike Bloomberg
Martin Luther King
John Glenn
AMAZING TECHNOLOGY
Rapid technological development over past 200 years ... and accelerating
The challenge that needs to be addressed is to ensure that technology is deployed in a way that does good, and not in ways that have detrimental impact.
There is ample evidence that an uncontrolled market based system does not ensure that detrimental impacts are avoided. This is not a new problem. However, it has become increasingly problematic in recent decades as the enterprise system has been financialized and dominated more and more by performance metrics for profits, without equally powerful metrics about impact on society and impact on the environment.


AEROSPACE

Passenger Aircraft

Jet engines

Satellites
The Wright brothers made the first powered flight in 1903. The progress since then is amazing. Measured in time, the world is much smaller now with ubiquitous commercial flights, Jet engines have massive power, and satellites are able to watch our every move.
MEDIA and COMMUNICATIONS

Print Media

Internet / WWW
Apple
Media and communications are an essential feature of a civilized society. News moves faster now than at any time in history, but the accuracy, objectivity and truthfulness of the news has dangerously degraded. There is power to communicate but little power to moderate!
KNOWLEDGE
Apple

Print Media

Internet / WWW
COMPUTER SCIENCE
QUANTUM COMPUTING
IBM
ARTIFICIAL INTELLIGENCE (AI)
Evolution of AI
AI hardware
Third Wave AI
The algorithms that drive AI have the ability to sort through a lot of data very fast, draw some conclusions and then do another sort, and another and another getting more accurate answers the more they iterate. No question it can be helpful, but still not very good at understanding why!
ELECTRONIC DATA PROCESSING

IBM

Microsoft

Oracle
LOGISTICS

Trucks

Container Ships

Freight rail
MATERIALS

Composite materials

Plastics

High strength steels
MEDICAL SCIENCE

Genetic code / DNA

Pharmaceuticals

MRI technology
| | | | |
| --- | --- | --- | --- |
| Passenger Rail | Passenger Car | Passenger Bus | |
PRODUCTION ENGINEERING

3D Printing
SOCIAL MEDIA

Google

Facebook

Twitter