#2
EFFECTIVE MANAGEMENT
MOVING THE NEEDLE ON MAJOR ISSUES
ABOUT THE TVM INITIATIVE
Numbering the Triple Bottom Line

Accounting for ALL the Capitals
TRANSPARENCY and ACCOUNTABILITY
METRICS TO MAKE THE WORLD A BETTER PLACE

TVM uses the core concepts of conventional accountancy:
Enhancing them to include social and environmental impacts;
While continuing to account for economic efficiency.
Peter Drucker famously said you manage what you measure ...
This is undoubtedly true ... in the corporate world, the components that go into making profit are measured intensely in order to improve profit performance ... and it works!
Unfortunately, we don't do anything like the same amount of measuring in order to improve society and avoid degrading the environment ... and we don't have any easy way of talking about social performance and environmental performance in the same way that we are able to talk about corporate performance and investment portfolio performance.
This has to change
We argue that you had better measure the right things

TPB note: Management accountancy and electronic data processing (EDP) enabled the optimization of profit performance during my adult lifetime and legitimized by fashionable universities like Harvard (the Business School) and Chicago (Milton Friedman). This resulted in financialization of the system. The system needs to be brought back in balance with social, environmental and economic issues all managed in a complex optimized manner.
ACCOUNTING FOR PROGRESS
Progress is Balance Sheet Improvement over Time.
NO CHANGE IN BALANCE SHEET
STEADY STATE
GROWTH IN THE BALANCE SHEET
POSITIVE PROGRESS / VALUEADD
BALANCE SHEET GETTING SMALLER
VALUE DESTRUCTION
This set of graphics demonstrate that change in state over time describes progress. In this simplified series three different scenarios are depicted: Steady State; Good Progress and Backsliding.

Measure Balance Sheet Change and You Measure Progress.
The Socio-Enviro-Economic System is Insanely Complex
Complexity of daily activities ... impossible to manage ... profitable activities but degraded state!
Focus on state enables measurement of progress ... much more effective for meaningful management.
Impact on ALL the Capitals: Social, Natural and Economic ... the essential TVM framing!
An unregulated free market capitalist enterprise system is one approach to making sense of this complexity, but experience shows it will be 'gamed' in order for the powerful successful players to increase their power and wealth. One way to measure progress of the system and the components of the sustem is to follow trends of their balance sheets (Diagram 2). A better way developed by TVM is to use balance sheets which include not only financial (economic) information, but also societal (social capital) and environmental (natural capital) information.

Measure Social, Environmental and Economic Change to Measure Progress.
Socio-Enviro-Economic Trends
Decades of Social and Economic Progress & Environmental Degradation
What has been happening ... What needs to happen in the immediate future
THE WHOLE SYSTEM
THE ACTUAL PAST
A NO CHANGE FUTURE
A BETTER FUTURE
More and more DEPLETION and DEGRADATION of NATURAL CAPITAL is UNSUSTAINABLE
DATA AND FACTS MUST DRIVE DECISIONS
Data at the Center
Data Everywhere
These schematics were drawn around 1995 early in the days of electronic data collection. What was expensive then, has now become relatively low cost. However, the challenge remains to make use of data in a meaningful way so that better decision get made.
ACCOUNTING'S CENTRAL CORE CONCEPT
Conventional financial accounting has 'double entry' as its central core concept. The profit and loss of every activity is recorded in the income and expenditure accounts, and the impact of the activity is recorded in the balance sheet accounts. The income and expenditure accounts are used to summarise the profit or loss and the balance sheet accounts show the state of the reporting entity.

The concept of 'double entry' in accounting and accountability is very old, going back at least 400 years when it was described by an Italian Luca de Pacioli. This form of financial accountancy has been an essential enabling factor in the progress of the industrial revolution for the last 200 years, making it possible for engineers and innovators to obtain financing from bankers and wealthy investors.

Since the end of WWII the size of the world's population and the level of industrial activity has grown substantially. The result of this has been substantial depletion and degradation of the natural environment. Conventional financial accountancy does not take this into consideration, and now makes this form of accountancy no longer fit for purpose. In addition, the use of money and price as the central metric for basic transactions means that this form of accountancy does not take into account almost everything that is important for society and quality of life. The purpose of TrueValueMetrics (TVM) is to address these issues.
TRIPLE BOTTOM LINE
The idea of a 'Triple Bottom Line' was popularised in the 1990s when it was written about by John Elkington, but was not taken up by big investors and the mainstream of the business world. The Triple Bottom Line (TBL) is not just about profit performance, but also about impact on society (people) and the natural world (planet). This is sometimes referred to as the 3Ps.

TVM applies the same basic construct used in double entry accounting to not only to activities that have an impact on economic capital, but also to their impact on social capital and on natural or environmental capital. Double entry accounting has, at its core, the unerstandng that a result ... a profit of loss ... is made up of a combination of revenues and of costs which together result in the profit or loss result.

So far, this concept does not appear to be being widely used as the foundation for various forms of ESG and 'sustainability' accounting and reporting, though there is accelerating progress in an increasing number of cpmpanies to compile much of the core information needed better to understand the multiple non-cinancial impacts of most economic activities. So far, however, there is no widely accepted way to report on the social and environmental dimensions of progress with anything like to same rigor and oversight that there is for economic (financial) performance. This is, of course, the foundational reason for TVM.
COST, PRICE and VALUE
The corporate organization is very familiar with cost and price. Good corporate managers understand the behavior of costs and the behavior of prices, and they manage to optimize the 'delta' of price being bigger than cost. This has been the essence of for-profit business for a very long time.

For customers, there is more interest in the delta between value and price. They understand the behavior of value and price and act accordingly. In a competitive market situation, the customer has leverage, but this has been weakened in the modern economy by corporate organizations consolidating, becoming oligopolies and almost eliminating competitive pressures on prices and profits.


MULTI-VALUE NUMBERING
TVM's use of multi-value numbering has similarities with the multi-currency accounting logic within conventional financial accountancy. The socio-enviro-economic system is complex and multiple units of measure (units of account) are needed in order to measure and report progress and performance logically and with reasonable clarity.

TVM does not 'monetize' the elements that make up social and environmental (natural) capital. Money is not a suitable unit of measure because it varies over time and in ways that are not related to what needs to be measured.

In the multi-currency world there are exchange rates between different currencies. The same idea applies in the case of the numbering associated with social capital, the numbering associated with natural capital and the numbering (money) associated with economic capital.
FINANCIAL ACCOUNTING
IS INCREDIBLY POWERFUL
FINANCIAL ACCOUNTING IS USED MAINLY IN THE CORPORATE WORLD
TO OPTIMIZE FOR PROFIT PERFORMANCE AND STOCKHOLDER VALUE
which has created huge economic wealth but also enabling inequality and environmental damage
TRUEVALUEMETRICS (TVM) OPTIMIZES FOR SOCIAL IMPACT, ENVIRONMENTAL IMPACT AND ECONOMIC IMPACT AND ALSO ENABLES RADICAL ACCOUNTABILITY FOR ALL ACTIVITIES AND ACTORS
TRUEVALUEMETRICS (TVM)
IS BETTER FOR THE WORLD
THIS IS HOW IT WORKS
.
CONVENTIONAL FINANCIAL ACCOUNTING EMBRACES
BALANCE SHEET & PROFIT AND LOSS ACCOUNT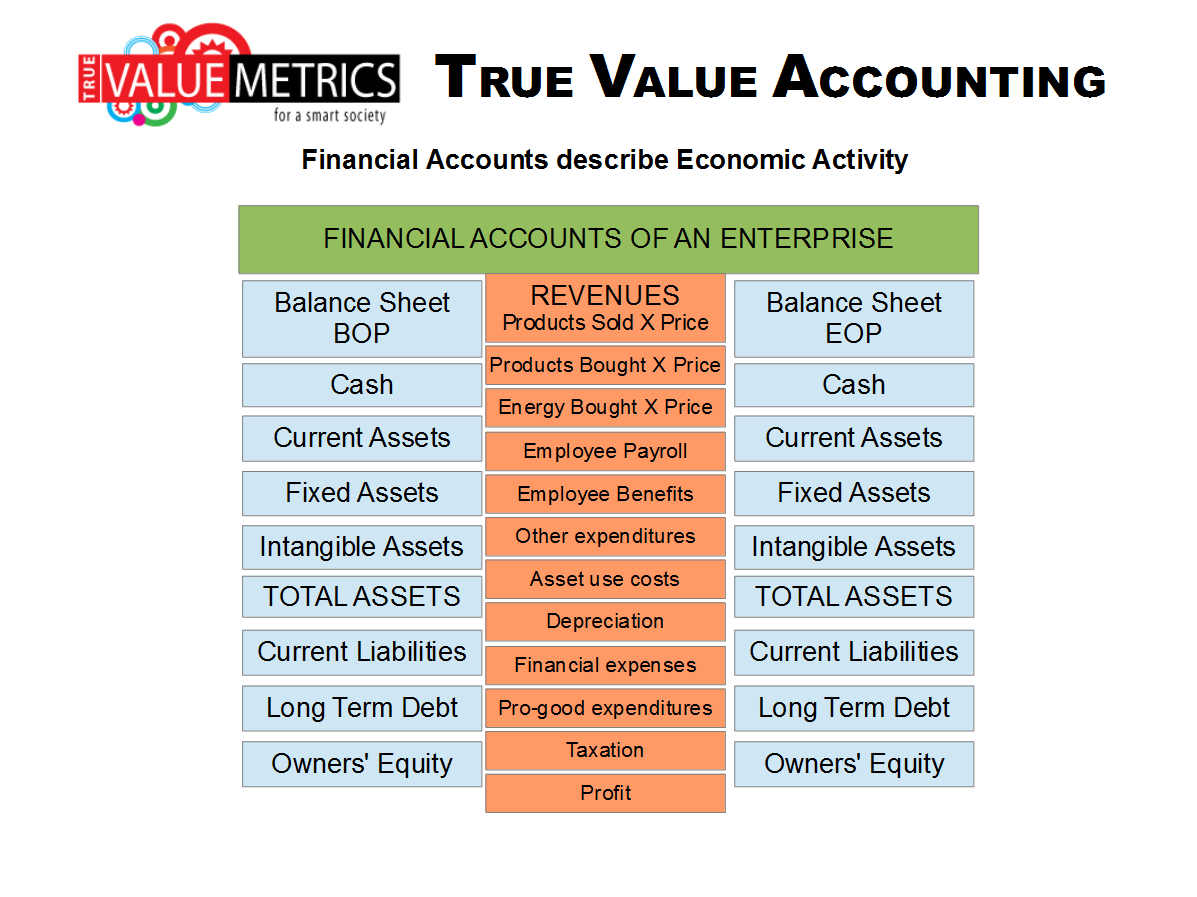 This graphic shows the basic elements of conventional financial reporting:
The elements of the Beginning of Period (BOP) Balance Sheet
The debits and the credits for the Profit and Loss Account of the period
The elements of the End of Period (EOP) Balance Sheet
TPB note: The profit may be determined either by adding up all the profit and loss account transactions or by the totality of the changes between the BOP and EOP balance sheets. There is something wrong when these two calculations produce different answers. When this is done for an individual for-profit entity, the results may look OK, but when the idea is applied to all the capitals, then the results are catastrophic ... but who cares if it is all about economic profit and only that!
TRUE VALUE METRICS ENHANCES ACCOUNTING TO
INCLUDE IMPACT ON SOCIETY AND THE ENVIRONMENT
True Value Impact Accounting enhances financial accountancy to show external impact (externalities) that goes beyond the conventional reporting envelope, to show also:
Social Impact .. changes to Social Capital
Economic Externalities ...changes in Economic Capital outside the reporting envelope
Environmental Impact ... changes in Natural Capital
ACCOUNTING FOR EXTERNALITIES AND
ALL THE SOCIAL, NATURAL and ECONOMIC CAPITALS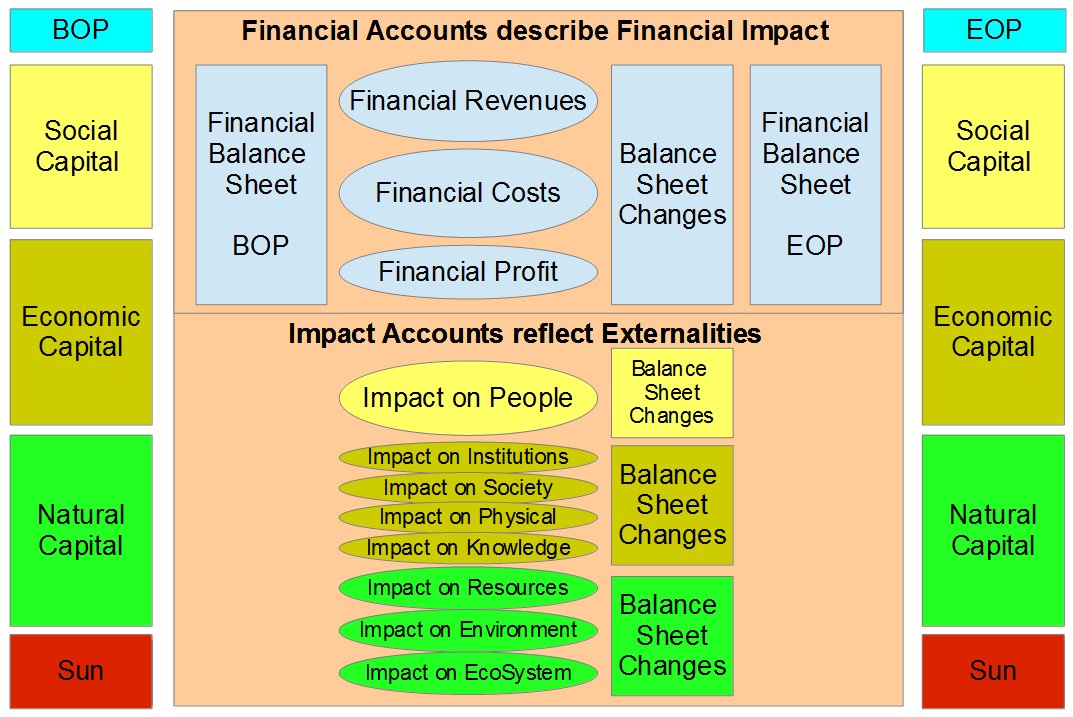 This graphic combines three of the key components of TVM's enhanced accountancy framework:
The balance sheet and profit and loss accounts of conventional financial accounting
The impact the core reporting entity is having on the external capitals
The STATE of the external capitals
This basic framework applies for the corporate organization where conventional accountancy has been used for a very long time, but the numbers also nest in a manner that has similarities with business consolidations and group accounts. In the case of TVM, this framework may be applied in a variety of different ways and for every possible perspective including:
for multiple aspects of the complex for-profit corporation

the individual process
the stand-alone facility
the supply chain
separate locations
the complete organization

for the individual
for the family
for the place

for a community
for a region
for a country

for a product
for a project or program