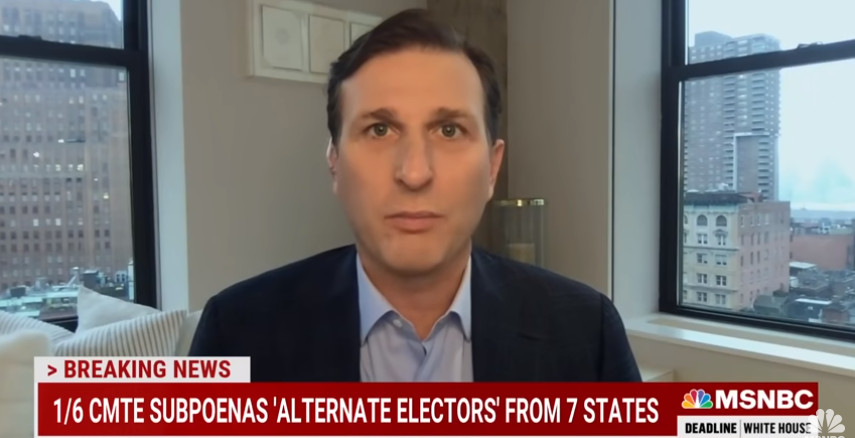 Former assistant U.S. attorney for the Southern District of New York, Dan Goldman

Evidence Shows Trump Was 'Involved In Conspiracy To Overturn Election'

Jan 28, 2022

890,595 views

MSNBC

4.62M subscribers

Former assistant U.S. attorney for SDNY Dan Goldman reacts to the subpoenas sent from the January 6th select committee to fake Trump electors across the country.

MSNBC delivers breaking news, in-depth analysis of politics headlines, as well as commentary and informed perspectives. Find video clips and segments from The Rachel Maddow Show, Morning Joe, Meet the Press Daily, The Beat with Ari Melber, Deadline: White House with Nicolle Wallace, The ReidOut, All In, Last Word, 11th Hour, and more.
Connect with MSNBC Online
Subscribe to MSNBC: http://on.msnbc.com/SubscribeTomsnbc
Visit msnbc.com: http://on.msnbc.com/Readmsnbc
Subscribe to MSNBC Newsletter: http://http://MSNBC.com/NewslettersYo...
Find MSNBC on Facebook: http://on.msnbc.com/Likemsnbc
Follow MSNBC on Twitter: http://on.msnbc.com/Followmsnbc
Follow MSNBC on Instagram: http://on.msnbc.com/Instamsnbc
#Trump #Election #Jan6


---
The text being discussed is available at

and