BILLIONAIRES
Jeff Bezos and MacKenzie Bezos
Amazon founder's ex-wife makes waves with billions in charitable donations
---
BEVERLY HILLS, CA - MARCH 04: Jeff Bezos (L) and MacKenzie Bezos (R) attend the 2018 Vanity Fair Oscar Party hosted by Radhika Jones at Wallis Annenberg Center for the Performing Arts on March 4, 2018 in Beverly Hills, California. (Photo by Dia Dipasupil/Getty Images)
---
Original article: https://www.dailykos.com/stories/2022/1/24/2076068/-Unlike-her-ex-husband-Jeff-Bezos-MacKenzie-Scott-is-extremely-generous-with-her-billions
---
Burgess COMMENTARY
Ms. MacKensie Scott seems to be on the right track, but her former husband not at all. One of my goals is to bring some meaningful accountability to bear on all the people on this planet who have extreme wealth. There are important questions about how they got their wealth in the first place, and then what the are doing and have done with the wealth that they own.
When I was a child, I remember my parents differentiating between old wealth and new wealth ... the nouveau riche. In the post WWII years high taxation was rapidly diminishing the wealth of the British aristocracy and it would be a long time before a new class of ultra high wealth individuals would emerge. Fifty, sixty or seventy years on and there is a class of ultra high wealth individuals many of whom have little or no moral or social compass, but are very efficient at concentrating wealth to themselves.
During my career I learned something how wealth accumulation worked. It is very different from wealth creation, but this difference is not recognized in a lot of the discussion about wealth and wealth inequality. It is however, at the core of the TrueValueMetrics (TVM) initiative that I have been working on for a long time.
Peter Burgess
---
Amazon founder's ex-wife makes waves with billions in charitable donations

Rebekah Sager ... Daily Kos Staff

Monday January 24, 2022 · 9:02 AM EST

It's hard for me to even imagine having billions of dollars. What would I do with it? Where would I donate it? Whose life could I change forever with my generous donation? MacKenzie Scott, Jeff Bezos' ex-wife, has apparently figured out the conundrum of wealth and philanthropy quite well. In the past two years, she's given away more money than Bezos has in his entire lifetime.



Forbes @Forbes
Mackenzie Scott has distributed at least $8.6 billion in less than two years to 780-plus organizations. Ex-husband Jeff Bezos has ramped up philanthropy since transitioning from Amazon CEO to chairman, announcing $1 billion in donations in 2021

https://trib.al/p0WjYoL


According to Forbes, Scott has been a busy little bee, giving away money to no fewer than 780 charitable groups focusing on gender equality, racial and systemic justice, public health, and educational institutions such as Historically Black Colleges and Universities (HBCUs). So far, she's distributed at least $8.6 billion in less than two years, accounting for about 14% of her current net worth, which as of Jan. 19, 2022 is about $53.5 billion.

After being called out for being a cheapskate, Bezos gave nearly $700,000 toward the fires in Australia, but that's butt-wiping money for a man worth over $145 billion.

Bezos' philanthropy, at last reporting totaled about $13 billion, which would make him one of the most generous philanthropists in history, but he hasn't actually given the money away yet. The Amazon giant has set up his charity to stretch out over several years. So at this point, Bezos has only delivered on about $1.5 billion of that.

In July, Scott's ex-husband pledged to donate $200 million to the Smithsonian, the largest gift the institution has received since its founding in 1846. According to the Smithsonian, $70 million will go toward renovating the National Air and Space Museum, and the rest will go toward a new education center at the museum.

Bezos also gave $100 million to CNN contributor Van Jones for his Dream Corps, an organization that "closes prison doors and opens doors of opportunity" to "create a future with freedom and dignity for all." He gave another $100 million to celebrity chef and activist Jose Andres, founder of World Central Kitchen, which is a nonprofit organization that provides food to those affected by natural disasters.

Bezos has also pledged $10 billion to the Earth Fund to combat climate change, but so far he's only given about 1% of it, with a plan to give the full amount in 2030. The fact that he's donating to climate change is ironic because as the Amazon rainforest was turning to ash in 2019, Bezos was silent as a church mouse.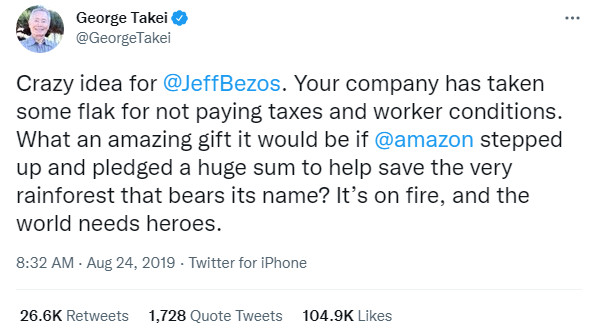 Bezos may have given away some money, but not nearly as much as he could. More importantly as has been widely reported, Amazon workers have been fighting for better wages and better treatment on the job.

In 2017, a Plainfield, Indiana, worker was killed by a forklift. Amazon was found at fault—it was cited for safety violations and fined $28,000. But "state labor officials quietly absolved Amazon of responsibility" when Gov. Eric Holcomb was trying to lure Bezos' HQ2 to Indiana, according to Front Page Live.

In December of last year, six Amazon workers were killed at an Edwardsville, Illinois, warehouse when 46 workers were trapped in the building during a tornado.

Jacobin reports that Reps. Cori Bush and Alexandria Ocasio-Cortez and Sen. Elizabeth Warren are now demanding a 10-year list of all onsite deaths with an explanation.

Amazon has one of the highest turnover rates in the industry (3% per week), with many workers saying they feel completely disposable.

In 2017, Bezos bought Whole Foods. Two years later he cut off health insurance to part-time employees, meaning he left 1,900 people without insurance in order to to "better meet the needs of our business and create a more equitable and efficient scheduling model," Insider reports.


---
The text being discussed is available at
https://www.dailykos.com/stories/2022/1/24/2076068/-Unlike-her-ex-husband-Jeff-Bezos-MacKenzie-Scott-is-extremely-generous-with-her-billions
and