Ron Johnson thought he could 'freep' a poll on Twitter, boy was he wrong

Aysha Qamar ... Daily Kos Staff

Wednesday January 19, 2022 · 12:10 PM EST

WASHINGTON, DC - DECEMBER 16: Senate Homeland Security and Governmental Affairs Committee Chairman Ron Johnson (R-WI) speaks during a Senate Homeland Security and Governmental Affairs Committee hearing to discuss election security and the 2020 election process on December 16, 2020 in Washington, DC. U.S. President Donald Trump continues to push baseless claims of voter fraud during the presidential election, which Krebs called the most secure in American history. (Photo by Greg Nash-Pool/Getty Images)

As Wisconsin lawmakers argue on rules to pass voting rights legislation, Republican senator is learning the consequences of online polling. Not sure what outcome Ron Johnson expected to see, but it clearly wasn't this one.

On Jan. 18 Johnson created a Twitter poll— open to all— asking if one wanted to "IMPLODE the filibuster so that Dems can RAM their voting rights legislation through Congress?" While he probably thought the poll would work in his favor, boy was he wrong. Not only was the poll open to anyone to vote, but it was posted on Twitter, a platform known for its liberal views and wide range of audiences.

Within hours, the poll saw more than 94% voting yes and a mere 5% voting no.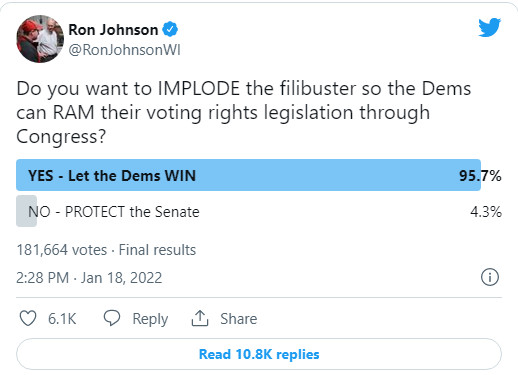 The fillibuster deals with two pieces of voting legislation that address issues of protecting the rights of people of color and the poor.

According to the Wisconsin Examiner, since the 2020 presidential election, many GOP lawmakers have introduced and passed laws that restrict voting access to people of color, the disabled, and those who live in rural communities.

The Brennan Center for Justice at the New York University School of Law found that at least 19 states passed 34 laws restricting voting access. from Jan. 1, 2021 to Dec. 7, 2021 alone.

"We are in a crisis of democracy," Rev. Dr. William J. Barber II, the co-chair of the Poor People's Campaign: A National Call For Moral Revival, told the Wisconsin Examiner, noting that keeping the filibuster in place hurts all Americans. "We talk about the filibuster, about how it hurts Black people — the filibuster has hurt everybody in this country, Black folk, women, the labor movement."

Last Thursday, Senate Majority Leader Chuck Schumer announced that on Tuesday the Senate will take up a House-passed bill that includes the John R. Lewis Voting Rights Advancement Act and the Freedom to Vote Act.

"I will close with this: If the right to vote is the cornerstone of our democracy, then how can we in good conscience allow for a situation in which the Republican Party can debate and pass voter suppression laws at the state level with only a simple majority vote, but not allow the United States Senate to do the same?" he said on the Senate floor.

As a result of the ongoing debate, Johnson posted his poll but of course, he failed miserably in his attempt to show that people "want" the filibuster to stay.

Poor thing probably thought he could use the Republican tactic to "freep" this poll too. Too bad Twitter doesn't work like that. Sorry not sorry.



With only a few hours left for the poll to stay open, do you plan on voting on it?


---
The text being discussed is available at
https://www.dailykos.com/stories/2022/1/19/2075507/-Ron-Johnson-thought-he-could-freep-a-poll-on-Twitter-boy-was-he-wrong
and