Original article:
---
WH press secretary is really good at her job—watch her flip the script on McConnell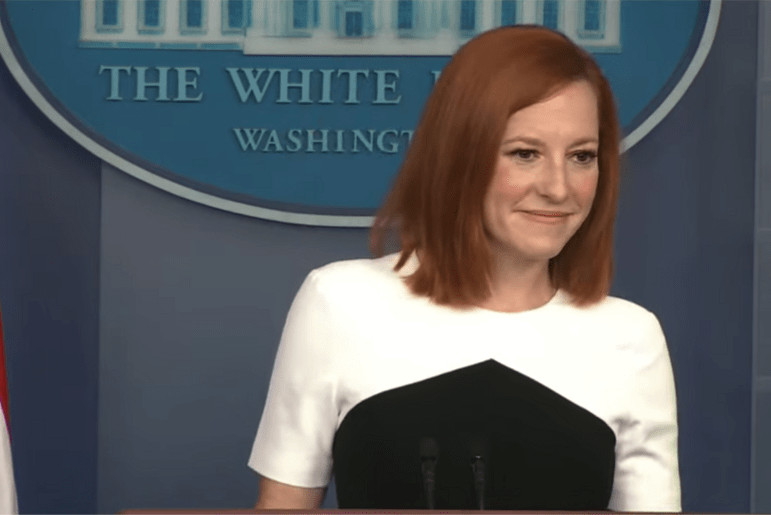 Kapow! ... ScreenShot2021-05-05at10.17.17AM.png

Wednesday's White House press briefing began with Secretary of Agriculture Tom Vilsack speaking about the Biden administration's plans to use the USDA to invest millions in grants to local and regional food producers affected by the COVID-19 pandemic. He touched on the inequities that non-white farmers have faced historically, and the need for action on the part of the federal government to even the playing field and support all farmers. After taking a few questions, Vilsack handed off the microphone to White House press secretary Jen Psaki.

Psaki fielded questions about everything from COVID-19 public health guidelines to Biden's travel plans over the next few weeks. A highlight came when Psaki was asked whether Biden and the current administration were "worried" about being able to work with Republicans when GOP leaders like Mitch McConnell continue to tout their unity in opposition to allowing Biden to enact any of his agenda. Psaki explained that the administration really didn't have to worry about Republican Party obstructionist rhetoric. The reason there was nothing to talk about is that the Biden administration has zero to the power of zero interest in paying attention to obstruction. There is only one job the current administration and Democratic Party-led legislative branch has, and while it is technically identical to the GOP's job, only one political party is interested to doing it.

Psaki's response to all of the fact-free, hand-wringing culture war baloney and policy-free anti-science bleating by Republicans was simply perfect: 'I guess the contrast for people to consider is that 100% of our focus is on delivering relief to the American people.' To make it clear, Psaki went on to explain exactly what the GOP is promising to obstruct: "Getting the pandemic under control and putting people back to work. And we welcome support, engagement, and work with Republicans on that. The President has extended an open arm to that. The door to the Oval Office is open."

Psaki also fielded a question about changing recommendations from the CDC and whether or not these changes will chip away at trust and lead to a backlash at following the more "strict" aspects of various COVID-19 guidance. Psaki explained that framing the CDC's evolving guidance as "contradictions" is not productive nor is it particularly honest. Dr. Anthony Fauci and the officials at the CDC spend most of their time looking at data and studies and the science surrounding Trump's pandemic and the recommendations made are based on the best evidence available at any given time. As conditions change, and as more data and science are conducted, researched, and analyzed, the CDC will continue to change its recommendations.

Psaki pointed out that there is "nuance" in some of the guidance that allows for a less "strict" reading of the recommendations. One example: While the CDC recommends that even if you are vaccinated, you should wear a mask when in public in a "crowd," that does not mean that if you are outside but not in a crowd of people and are also vaccinated, you still need to wear a mask. Framing the recommended public safety measures in hyperbolic binary terms is not simply unhelpful, it is misleading.

Enjoy an administration that is "100%" focused on the American public's health and welfare for the first time in years.
---
Walter Einenkel ... Daily Kos Staff
Wednesday May 05, 2021 · 2:58 PM EDT
The text being discussed is available at

and