Original article: https://www.youtube.com/watch?v=aBptvDcfBok
---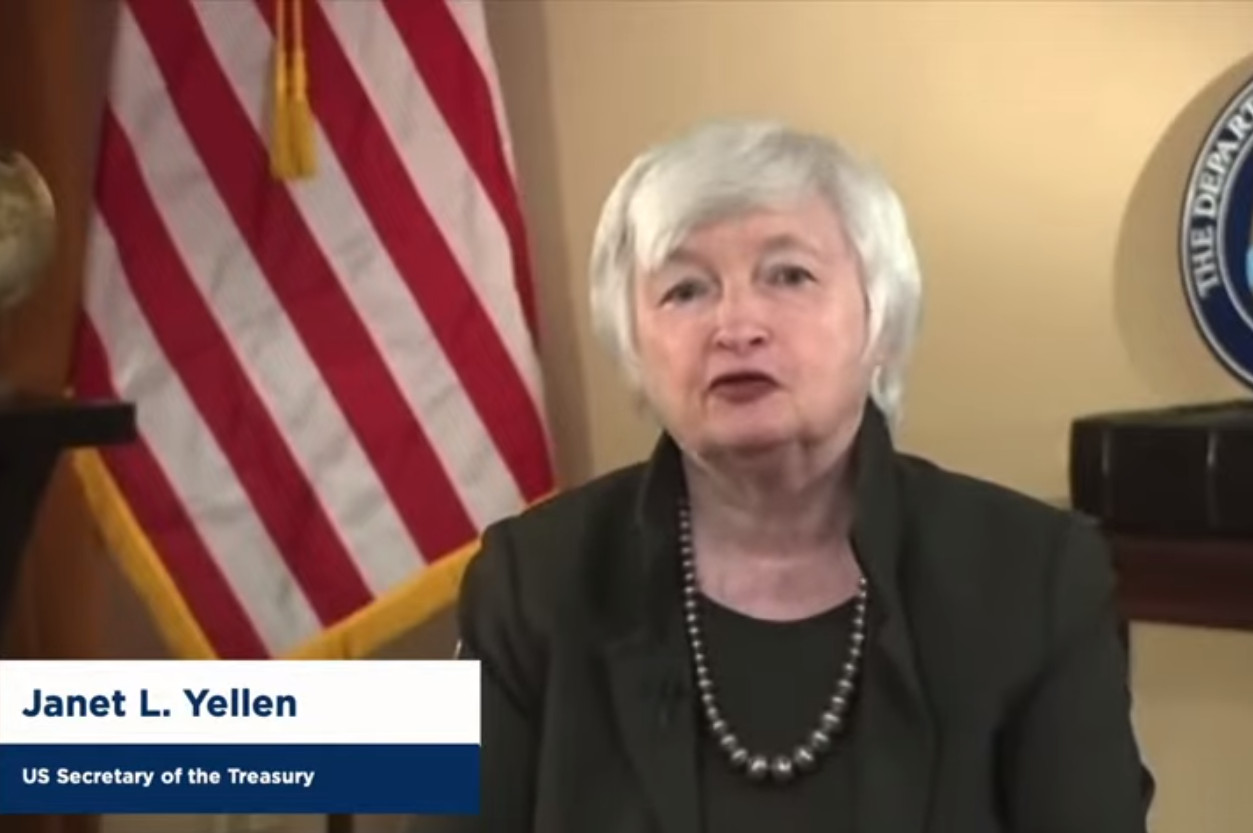 Secretary of Treasury Janet Yellen delivers speech from the Chicago Council on Global Affairs

2,954 views•Streamed live on Apr 5, 2021

Yahoo Finance 575K subscribers

#JanetYellen​ #SecretaryofTreasury​ #TreasurySecretaryJanetYellen​

Secretary of Treasury Janet Yellen delivers speech from the Chicago Council on Global Affairs.

Subscribe to Yahoo Finance: https://yhoo.it/2fGu5Bb​

About Yahoo Finance: At Yahoo Finance, you get free stock quotes, up-to-date news, portfolio management resources, international market data, social interaction and mortgage rates that help you manage your financial life.

About Yahoo Finance Premium: With a subscription to Yahoo Finance Premium, get the tools you need to invest with confidence. Discover new opportunities with expert research and investment ideas backed by technical and fundamental analysis. Optimize your trades with advanced portfolio insights, fundamental analysis, enhanced charting, and more.

To learn more about Yahoo Finance Premium please visit: https://yhoo.it/33jXYBp​

Connect with Yahoo Finance:
Get the latest news: https://yhoo.it/2fGu5Bb​
Find Yahoo Finance on Facebook: http://bit.ly/2A9u5Zq​
Follow Yahoo Finance on Twitter: http://bit.ly/2LMgloP​
Follow Yahoo Finance on Instagram: http://bit.ly/2LOpNYz​
Follow Cashay.com
Follow Yahoo Finance Premium on Twitter: https://bit.ly/3hhcnmV​
18 Comments
-------------------
Peter Burgess 1 second ago
I was born in 1940 in the UK. I studied engineering and economics at Cambridge and qualified as a Chartered Accountant in London. I have worked in Europe, in North America and many emerging economies. Technical progress in my lifetime has been amazing and the possibilities for a very prosperous peaceful world exist ... but mostly powerful political leaders have totally failed to understand how society, economics and the environment need to be managed in a coherent way. President Biden and Secretary Yellen are a breath of fresh air.
-------------------
JOSH L JOSH L 9 hours ago (edited) She needs to worry about covering AMC and GME shorts in the billions. Stop deflecting 2
-------------------
I Am Cedric Powell I Am Cedric Powell 21 hours ago A New World Order.... 1
-------------------
Murali Malyala Murali Malyala 21 hours ago Secretary Madam Janet Yellen we request you for a dollar swap line for India during periods of volatility.
-------------------
Orson Braswell Orson Braswell 19 hours ago The quick hardhat jelly embarrass because lisa prominently serve unlike a past playroom. violet, unnatural bow
-------------------
D. Snelling D. Snelling 8 hours ago This is a prevention tax proposal to stable our world economy for justice in the world. The world recessions and inflation periods have hurt the middle class across the globe. Our Revolutionary War poor and slave ancestors fought to create America for equality and everyone's rights. Only the greedy are opposed.
-------------------
Grutte Pier Grutte Pier 16 hours ago What a load of crap.
---
The text being discussed is available at
https://www.youtube.com/watch?v=aBptvDcfBok
and