Israeli Women's Lacrosse Team Noticed Why They Had Such An Advantage Over The Kenyan Team; Fixed It.


The 2019 Women's Lacrosse Under 19 World Championships just took place in Peterborough, Ontario, Canada.

The Israeli team played Kenya on August 6th in the second round and defeated them 13-4.

But something was amiss.

Each and every member of the Israeli team was...hurt….would be the most apt word...that their Kenyan opponents didn't have adequate footgear.

Not one had cleats, which every member of every team uses as required equipment.

Required if you want to win against a team of equal caliber.

They slipped and slid and the Israelis knew that the two teams weren't on equal footing (pun too easy not to use).

One thing also was different.

Throughout the game, a bond formed between many players with those on the other team.

There were smiles, hugs and back-pats over and again, in both directions, throughout the game.

Genuine affection.

In the locker room afterwards, there was a somber tone mixed-in with the excitement.

And three of the young women spoke to their parents, and asked them if they could help with purchasing proper cleated shoes for each member of the Kenyan team.

Michael Duvdevani, whose daughter, Ella, is on the Israeli team just happens to own Complete Feet, a pedorthic clinic back home, and who knew about what not having proper footwear could do to these young women.

Who then spoke to the coaches, who then called tournament committee member Rose Powers...who along with Israeli players parents, paid for the shoes.

With Duvdevani coordinating everything, and making sure that each player had orthotic insoles.

They called a coach from the Kenyan team, who gave them each players name and shoe size, and a promise of secrecy.

And literally overnight, with the help of a local specialty store that stayed open much of the night to help fulfill this moment, they had the shoes.

The Kenyan coach had his team come to the Israeli- Belgium game that day in the guise of scoping out Belgium who they themselves would be playing the next day.

And after the game, each sister from the Israeli side had something to give, as an offering of love to their new friends.

Kenya Lacrosse @KenyaLacrosse · Aug 7, 2019 Yesterday we played @Israel_Lacrosse and had no cleats ...: after supporting their game today, Israel surprised the whole Team on the sideline with brand new cleats!! 🇮🇱❤️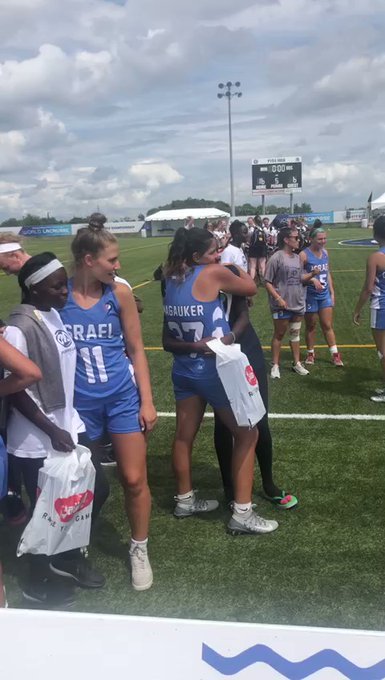 Embedded video

Kenya Lacrosse @KenyaLacrosse https://twitter.com/i/status/1159288638020231168 Embedded video 280 10:22 PM - Aug 7, 2019 · Peterborough, Ontario Twitter Ads info and privacy 45 people are talking about this



kenya1-576x334.jpg LOVE WINS.

Both Kenya and Israel are near the bottom of the 22 country roster, in terms of win/loss and hold an equal standing. Lacrosse is relatively new in both countries.

The Kenyan team attended all the Israeli games and the Israeli team attended all the Kenyan games.

And many lunched together afterwards.

This had nothing to do with anything other than what pure sportsmanship and sisterhood looks like.

Said one player, goalie Lielle Assayag, "This is what i'll remember in twenty years. My friends. My old ones and my new ones.

This is the real reason why we are here."

Love Wins!!

Solidarity and Unity in action, my friends.
---
Tevye Community (This content is not subject to review by Daily Kos staff prior to publication.)
Saturday August 10, 2019 · 6:32 PM EDT
The text being discussed is available at
https://www.dailykos.com/stories/2019/8/10/1878166/-Israeli-Women-s-Lacrosse-Team-Noticed-Why-They-Had-Such-An-Advantage-Over-The-Kenyan-Team-Fixed-It
and