Another Year, Another Warning The Earth Is Screwed The planet bombed its "annual physical" with another year of record heat and rising seas.

The last four years have been the warmest four years on record, according to a new international report.

In 2017, greenhouse gas concentrations in the atmosphere and global sea levels reached record highs, the National Oceanic and Atmospheric Administration reported Wednesday in its "State of the Climate" report. Described as Earth's "annual physical," the report was co-authored by 524 authors from 65 countries, and also confirms 2017 as either the second- or third-hottest year on record ― the figures differ slightly based on which of two global data sets are used.

And those high temperatures are without the influence of El Niño, a climatic event that creates warmer-than-average sea surface temperatures in the equatorial Pacific and is capable of changing weather around the globe. The last El Niño, which spanned from 2015 to 2016, was among the strongest El Niño events since 1950, according to the NOAA.

Last year "was easily the warmest non-El Niño year on record," said Deke Arndt, a climatologist at the NOAA's National Centers for Environmental Prediction and a lead author of the report, during a media briefing Wednesday.

Arndt said the last three years have effectively established "a new neighborhood in terms of global temperature."

The rate that humans are pumping carbon dioxide ― a primary driver of global climate change ― into the atmosphere has quadrupled since 1960. In 2017, the average CO2 concentration reached 405 parts per million, the "highest in the modern atmospheric measurement record and in ice core records dating back as far as 800,000 years," the report notes.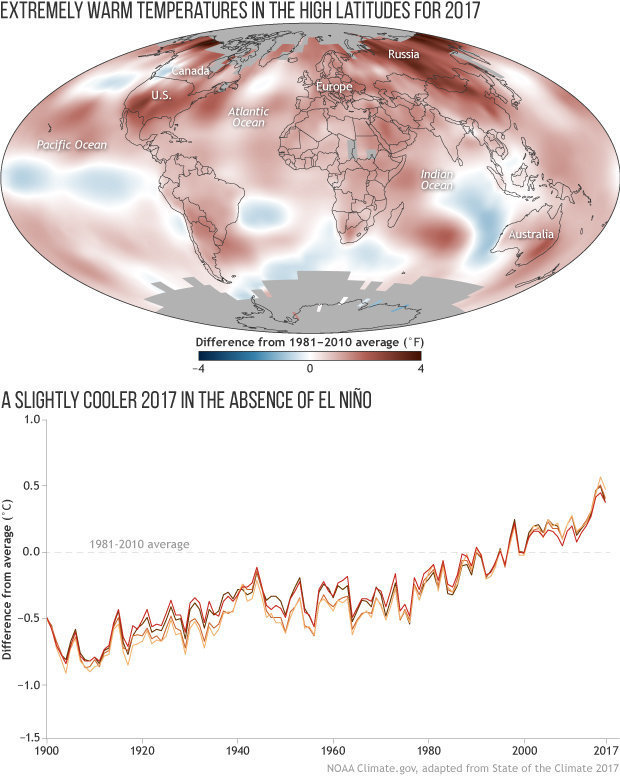 NOAA

The findings add to overwhelming evidence that the planet is heading in a dangerous direction and that we humans are falling far short in our efforts to combat the crisis. Scientists have warned that CO2 concentrations may never fall below the 400 ppm threshold again.

The global ocean surface temperature in 2017 warmed to a near-record high, falling just short of the 2016 mark. The world's oceans are approximately 3 inches higher than they were in 1993 and are rising at an average 1.2 inches per decade, according to the findings.

Greg Johnson, an oceanographer at the NOAA's Pacific Marine Environmental Laboratory, compared what's happening to the world's oceans to a freight train.

"We've started to push them with greenhouse gases, and that freight train is now moving and actually it will continue to move," he told reporters. "If we were to freeze greenhouse gases at the level they are today, the oceans would continue to warm and seas continue to rise for centuries to come."



NOAA A map of major climate events and anomalies from the 2017 "State of the Climate" report.

Earth in 2017 also experienced a record low maximum extent of sea ice in the Arctic, the continuation of an "unprecedented multiyear coral reef bleaching" event that decimated reefs around the world, and devastating extreme weather, including cyclones and wildfires. For the 38th year in a row, glaciers around the globe shrank.

The report comes as the Trump administration works to scrap environmental regulations, including Obama-era policies to rein in emissions, and continues to cast doubt on the threat of climate change.

In a surprise move late last year, the White House signed off on a lengthy report by dozens of federal agencies that concluded the planet has entered the warmest period "in the history of modern civilization," with global average air temperatures having increased by 1.8 degrees Fahrenheit over the last 115 years.

"It is extremely likely that human activities, especially emissions of greenhouse gases, are the dominant cause of the observed warming since the mid-20th century," that report states.

Chris D'Angelo Reporter, HuffPost
---