---------------------------------------------------------------------------------
CLIMATE POSITIVE Every product helps to create a better climate FIND CLIMATE POSITIVE PRODUCTS REGISTER CLIMATE POSITIVE PRODUCTS It's time to be positive about the future of our climate. What if every day to day action, big or small, left the climate better, not worse? What if our actions, from a enjoying a delicious burger, to grabbing a car to get across town created a positive impact? Now they can, a better climate with every tasty bite, easy trip, or other climate positive product. A minimum of 110% of greenhouse gas emissions have been off-set through verified high quality sources for any climate positive product. Each product has a net positive (carbon negative) effect, leaving the climate we share better with every purchase.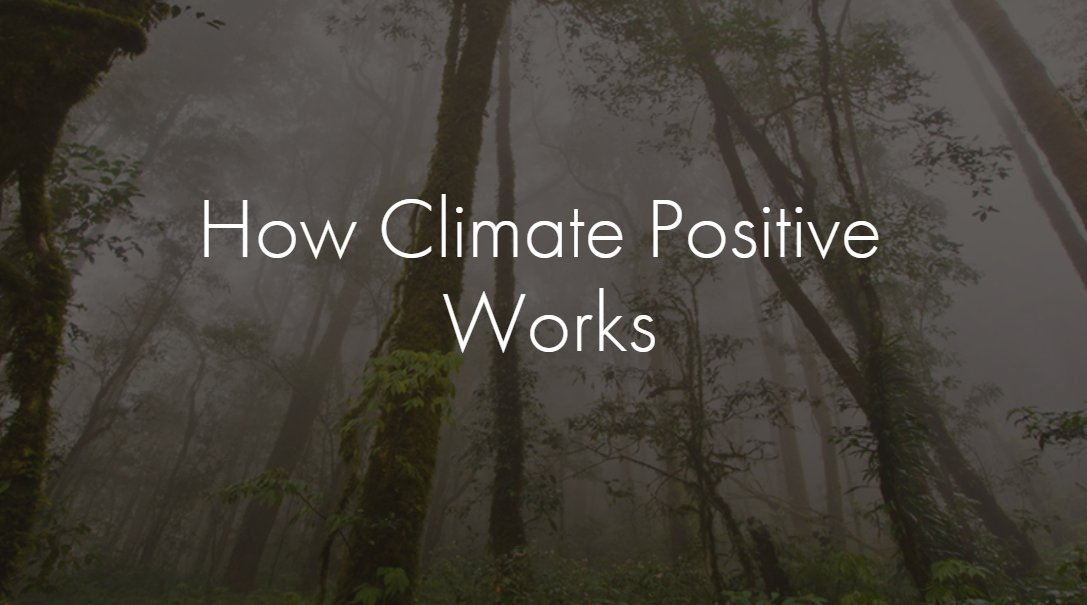 Ekos Image.jpg

How Climate Positive Works

Three Steps

If we're going to keep global warming under two degrees, we need to reduce greenhouse gas emissions and, at the same time, remove some of the carbon dioxide we've already emitted. In other words, becoming climate neutral is not enough. For our products to be climate positive, climate positive companies must take action in three areas:

1. Measure 100 % of emissions:
All greenhouse gas emissions are included in a climate positive company's calculations. This means measuring emissions from the start of a products life through to it's disposal. Including the base materials, transport, embedded energy, and lots more (all of it).

2. Reduce emissions:
Simply measuring is not enough. Climate positive companies are continuously reducing the emissions generated in association with their products.

3. Capture at least 110% of emissions:
Capture emissions through various means such as planting trees that absorb and store carbon dioxide from the atmosphere as they grow. Not only do climate positive companies carbon offset all the emissions from their products, they go further to capture the carbon dioxide equivalent of at least another 10% of their emissions. This means they are helping reduce the overall levels of greenhouse gases in the atmosphere. Clipop.org is requiring products to meet the world's only independent standard for carbon neutrality ISO 14021 however, offset a minimum of 110% of emissions.




How MAX is Climate Positive How MAX is Climate Positive

Screen Shot 2018-06-04 at 11.06.19 AM.png

Climate Positive Products




There is a growing global movement companies that believe it's their responsibility to create products that we can enjoy while knowing their net impact is helping to reverse climate change. Max-Burger logo.png MAX was founded in Sweden in 1968 with the vision of being the best burger chain in the world. Max's mission is to make the world a little better, both by serving the best tasting burgers and by doing good in society and for the world. We believe being the first to offer climate positive burgers is a good step in the right direction. mevo-logo-black-800px.png Mevo was founded in New Zealand in 2014 and launched Australasia's First free-floating car share in 2016. Mevo has committed to being climate positive from day one and believes that the freedom to move around the cities we call home should be the driving force for a better climate and future. While we are starting with just two companies, our goal is to have a many other companies register their climate positive products over the coming months.
---------------------------------------------------------------------------------
A global register of climate positive products established by two pioneering companies - MAX and Mevo Clipop.org has been established to provide a single and clear definition for what a climate positive product is and give consumers a single location and find products that help to leave the climate better. There aren't many products in the register yet, but there could soon be more, particularly if you tell companies you buy form or work for that they should create climate positive products. Clipop.org was created by two companies who believe climate positive products are a must for our future. MAX serves climate positive burgers in six countries (Sweden, Norway, Denmark, Poland, Egypt, and United Arab Emirates) and Mevo is provides climate positive car-sharing in New Zealand. The aim of clipop.org is to register climate positive products from all over the world, so that people who want to help stabilise the climate with their wallets can find products that help them do so. We want clipop.org to be owned by a not-for-profit organisation and we'll give it to the right partner when we find them. MAX and Mevo are on opposite sides of the world and came up with exactly the same idea at the same time. This is an idea who's time has come. We call on other companies to step up and join us in helping to fix the climate. We who are part of the problem must also be part of the solution. REGISTER A CLIMATE POSITIVE PRODUCT
-------------------------------------------------------------------
Join the Movement and Register your Climate Positive Product It may have started with two companies on opposite sides of the world. As more companies join in creating and registering their climate positive products collectively we provide positive options which empower people to make a positive impact. After all in the words of Margaret Mead 'Never doubt that a small group of thoughtful, committed citizens can change the world; indeed, it's the only thing that ever has.' Register
---