He created an international crisis overnight, so what's he doing today? A busy day watching a movie

TOPSHOT - US President-elect Donald Trump boards the elevator after escorting Martin Luther King III to the lobby after meetings at Trump Tower in New York City on January 16, 2017. / AFP / DOMINICK REUTER (Photo credit should read DOMINICK REUTER/AFP/Getty Images)
Somebody send Chris Christie out for popcorn
RSS TAGS DonaldTrump Recommended IvankaTrump Share this article
After issuing a repugnant and possibly illegal ban on Muslims entering the United States, what's Donald Trump doing today? He's having a private movie party at the White House!
View image on Twitter View image on Twitter Follow David Mack ✔ @davidmackau The WH just released Trump's schedule for tomorrow amid what's become a major national/international crisis.
He'll be watching a movie. 7:52 PM - 28 Jan 2017 2,809 2,809 Retweets 1,972 1,972 likes Also important to note the italicized words below each event on the schedule today: Closed press. THIS IS NOT NORMAL. REPEAT: THIS IS NOT NORMAL.
And while thousands protested at America's largest airports and lawyers worked feverishly to release the legal, green card-holding immigrants in danger of being turned away, what about the rest of Trump's team? Son-in-law and top advisor Jared Kushner and First Lady Ivanka Trump were having the grandest of times. Ivanka is seen here wearing a dress made of repurposed Breitbart tinfoil hats. Stay tuned to whitehouse.gov to find out where you can buy a knock-off Made in China version soon.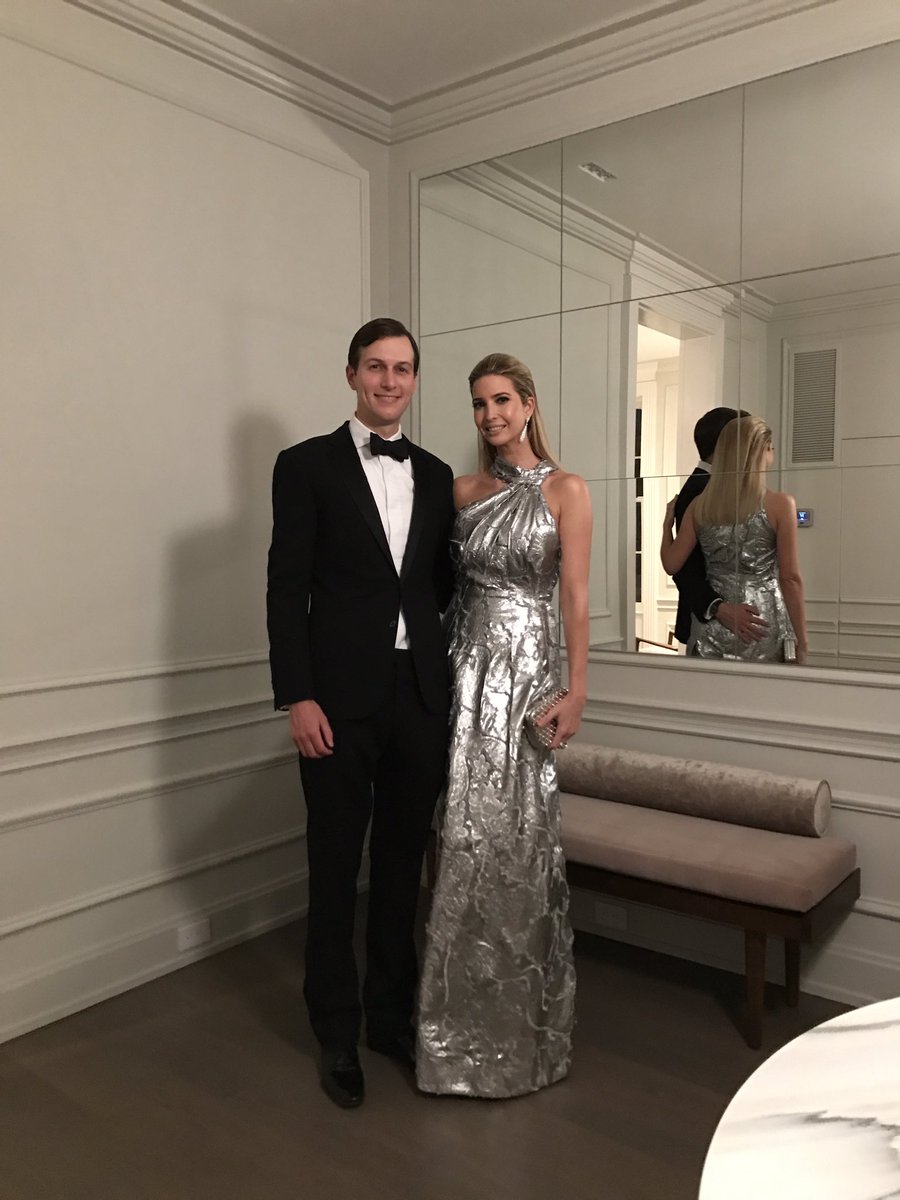 View image on Twitter View image on Twitter
Ivanka Trump ✔ @IvankaTrump 12:07 AM - 29 Jan 2017 3,405 3,405 Retweets 35,356 35,356 likes
---