Ford Augments CSR Credentials By Joining With Electronic Industry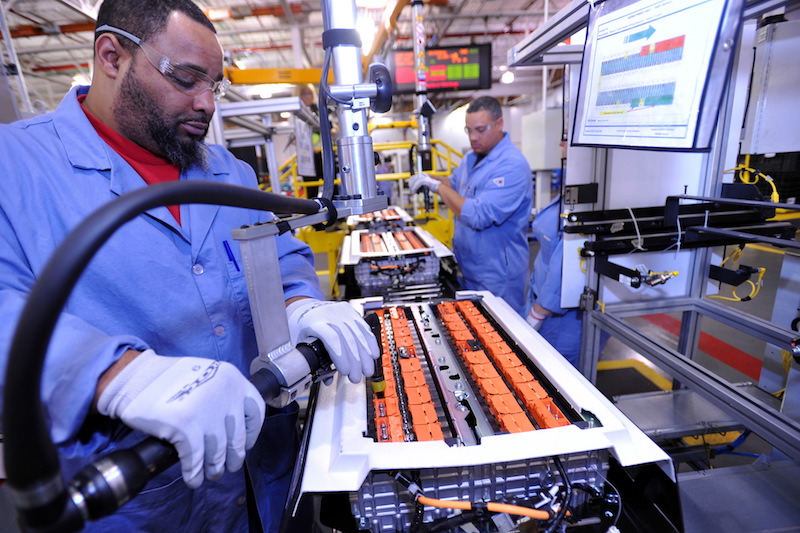 Battery packs are assembled for the C-MAX Hybrid and C-MAX Energi at the Rawsonville plant in Ypsilanti, Mich.
Last week Ford Motor Co. announced that it will join the Electronic Industry Citizenship Coalition (EICC) — a nonprofit organization of leading electronic companies dedicated to improving social, environmental and ethical conditions in their global supply chains.
As Ford moves toward thinking of itself not just as an automobile company, but as a mobility company, the recognition that electronics play an increasingly important role in its supply chain prompted the automaker to embark upon a large-scale collaboration with the electronics industry. Indeed Ford will join a coalition made up of about 15 percent of its own existing suppliers.
The move is particularly significant, as Ford is the first automotive company to join the EICC; the organization is comprised of 120 member companies, many of whom are already household names in the electronics industry such as Sony, Samsung and HP, to name a few.
Rob Lederer, executive director of the EICC told TriplePundit that the original rallying-cry of the coalition back at its inception in 2004 was to establish, "a common code of conduct for [corporate social responsibility (CSR)] in the electronics industry" in recognition of that industry's very sophisticated supply chains. Furthermore, the mission was also to find a way to evaluate risk in the supply chain, and provide tools to audit compliance against the common code of conduct.
EICC focuses on the key areas of labor, ethics, management systems, environment, and health and safety, which Lederer said represents the entire electronics supply chain — from the major brands, through their contract manufacturers, and component suppliers to those manufacturers.
Lederer told us that joining the coalition puts Ford "on top of the food chain," since the automaker buys from some of EICC's existing major brand members. Lederer also said, "Ford's membership prompted EICC to develop a new member category; not only do we represent manufacturers of electronics, we also represent products that have electronics as a major component of those products."
Key to the EICC's effectiveness lies in auditing member organizations' supply chains for compliance. This ranges from ensuring some of the most egregious problems, such as forced labor, are eradicated from supply chains, down to making sure working hours and health and safety are in compliance with EICC's code of conduct. Over a year-and-a-half period, 11,000 risk-assessments were undertaken by member companies, Lederer told 3p.
From Ford's perspective, membership will require the company to identify its own high-risk facilities as well as their supplier facilities. Geographically, the focus will be on the Asia Pacific region, which is the epicenter of the electronics industry, Mary Wroten, senior manager, Ford global purchasing supply chain sustainability, told 3p. She added: "EICC has made a good job of standardizing the audit protocol," and the company "will use the same common audit for suppliers all over the world."
Ford has manufacturing facilities in 60 countries globally, and since 2003, the company has trained and audited suppliers on its expectations for human rights, working conditions, business ethics and the environment. Ford's sustainability report details any violations the company finds, Wroten told 3p, and its aim is to work with those suppliers so that they can improve work conditions at their facilities.
As to whether Ford will start a trend in prompting other auto companies to join the EICC, Wroten at least hopes the company will help drive a common audit protocol in the industry, adding, "We are very proud of our record in human rights, and want to be a leader in this space — not just in electronics, but the auto industry as well."
On the heels of its announcement in joining the EICC, Ford also made the 2016 List of the Ethisphere Institute World's Most Ethical Company for the seventh consecutive year. Ford is the only automaker to achieve this, and secures this award in recognition of its ongoing commitment to ethical practices, corporate citizenship, governance and leadership. "This honor celebrates our employees who are committed to doing the right things and making the right choices," said Bill Ford, executive chairman, in the company's press release. "Ethics and corporate citizenship are the foundation of what drives us to make people's lives better."
Image provided courtesy of Ford Motor Co.
---
Phil Covington holds an MBA in Sustainable Management from Presidio Graduate School. In the past, he spent 16 years in the freight transportation and logistics industry. Today, Phil's writing focuses on transportation, forestry, technology and matters of sustainability in business.
FOLLOW PHIL COVINGTON @PHILCOVBLOG
---