Behind a mining monopoly Beneath Canada's mines in Latin America lies an unregulated industry.
http://youtu.be/FaVarMR1v2M
Canadian companies control a majority of Latin American mining. Activists say those companies are polluting and violating indigenous rights.
Canada is seen as a friendly nation but many indigenous communities say they have a dirty secret. Canada's mining industry, the largest in the world, controls a majority of Latin American mining. Activists say they pollute and violate human rights without accountability from the Canadian government. Mining companies argue they build schools, health centres, roads and provide jobs.
In this episode of The Stream, we speak to Meera Karunananthan (@meerakar) from the Council of Canadians and John McKay (@johnmckaylib), Canadian Member of Parliament. Members of The Stream community also join via Google+.
What do you think? Is Canada's global mining industry helping or hurting local populations? Send us your thoughts and comments on Facebook or Twitter using #AJStream.
---
---
Home to 70 per cent of the world's mining companies, Canada's mineral extraction economy is more robust and expansive than any other nation's. Although its operations span from Ontario's Ring of Fire to the Congo, Canadian mining companies are the most active in Latin America. The diagram below compares the exploration budgets of large Canadian mining companies with those of other countries.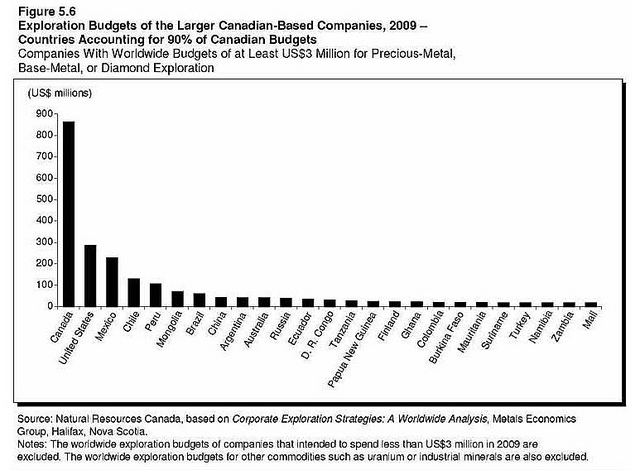 ---
Due to the abundance of activity in Canada's mining sector, and the history of risks to the local environments and citizens that neighbour extractive sites, controversy regularly follows mining operations. Some citizens argue that there is a lack of oversight and regulation for mining companies. To safeguard at-risk populations abroad, two legislative attempts were made 'to promote environmental best practices and ensure the protection and promotion of international human rights standards'.

MP John McKay introduced the first effort, Bill C-300, which was narrowly defeated in 2010 by a vote of 140 to 134. It sought to limit funding for companies that did not maintain adequate standards of environmental and social responsibility. McKay describes the need for, and opposition to the bill below. He will join The Stream to discuss current attempts at regulating Canada's mining industry.
---
Canadian mining companies offer host countries the opportunity to monetise natural resources and increase domestic development by constructing roads, hospitals, and schools. Some nations, however, have reneged on agreements for mineral extraction due to persistent pressure by local activists concerned with environmental degradation and human rights abuses. Below, Bolivian President Evo Morales joins indigenous leaders in signing an agreement that cancels a Canadian firm's mining contract after local activists held seven employees of the firm hostage in protest.
---
Local communities throughout Latin America are voicing their concerns. According to one report, 'Guatemala alone has seen more than 60 local votes on mines and dams as of July 2011, with an estimated 700,000 people voting against metal mining in their communities'. An interactive map tracks the communities putting this issue to vote across Latin America. Below, Nobel Peace Prize laureate Rigoberta Menchu speaks at a protest against mining in Guatemala.
---
Conflicts between indigenous groups and mining companies in El Salvador have led to the deaths of at least four activists over the last few years. Locals fear that mining companies and government officials infatuated with the promise of profits from mineral extraction either initiate or are complicit in violence against anti-mining activists. Al Jazeera English investigated accusations of abuses by Canadian mining companies in El Salvador below.
---
In Mexico, protests against Canadian mining operations 'have resulted in attacks, death threats and the murder of anti-mining leaders, carried out by municipal police or private security forces contracted by the companies'. An interactive map of environmental defenders in danger throughout Latin America describes the risks many incur when challenging mining activity. Below, a documentary describes the impact mining operations have on the culture of indigenous Mexicans.
---
Environmental degradation due to mineral extraction can lead to 'the destruction of archaelogical sites, acid mine drainage, water resource depletion in drought-prone areas'. Furthermore, those living downstream from mines 'have seen unnaturally high rates of cancer, skin diseases, birth defects and illness in the fish and livestock vital to their survival'. A comprehensive list of social and environmental conflicts caused by mineral extraction in Latin America can be found on this interactive map. Below is one of 300 miners who was poisoned after exposure to a toxic chemical substance while working for Canadian mining enterprise, Barrick Gold, in the Dominican Republic.
---
Canadian mining companies insist they operate by the highest standards of environmental and human rights laws, despite legal accountability measures in Canada being virtually voluntary. Inmet Mining aspires to 'improve the lives' of the 500 people that will be forced to resettle for the construction of a mine in Panama. Below, Barrick Gold illustrates their plan to rehabilitate the environment affected by their Pueblo Viejo mine.


Barrick Gold's environmental rehabilitation at the Pueblo Viejo mine
---
---